Part 1: 2021 is high and the wizards have already done so much!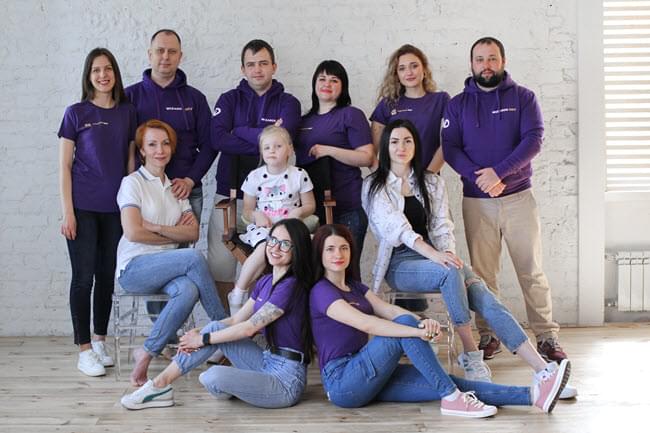 The name of our company WizardsDev literally means "development wizards". We always go in this direction and create products that really seem amazing. However, the strength of our work is not only in the creative approach to development, but also in the motivational inspiration of our wizards — all WizardsDev employees.
Last year was a complete surprise for us: we learned to live in isolation, discern the facial expressions of our interlocutors under a mask, greet each other remotely and communicate online. Everyone was looking forward to the end of the pandemic. And although 2021 still involves "isolation", our HR managers have found new ways to unite and inspire our colleagues. And let us talk about them in more detail.
Sleep discipline marathon
Monday is Monday, and April 1 is a good date to polish good habits. So we started with a marathon of sleep discipline. It's no secret that people "from the IT world" work a lot and sleep little. Of course, there is some point in this. And to be in a good mood, to have inspiration for the next working day and to stay healthy, doctors recommend going to bed no later than 10.00 p.m. and waking up before 7.00 a.m. But who controls it? Probably, very few))
So we decided to support everyone who wants to develop new habits and have a healthy good night's sleep. For 15 days, participants learned to go to bed as early as possible and wake up in the early dawn. Is there a marathon without control and motivation? Of course, it was not without professional help – a specialist for morning punishments, tortures and torments. Scared? That's a joke)
Yuliia Zhytomyrska, a professional coach on healthy habits, has held more than one sleep discipline marathon. She taught us to follow our natural rhythms, go to bed and wake up at the most appropriate time for the body. But most importantly, we have learned to ignore such familiar sabotage ideas of our brain like "sleep a little more", "watch this series to the end, it's only one a.m.", or "why do I need all this in the first place, it's ok like this".
Although there is one thing that had a positive effect on the participants before the start of the competition. We actively involved their creative thinking! As we had to report the time we woke up and went to bed, our developers suggested creating a bot that would automatically send the prepared photos. The marathon didn't even start, but the thinking productivity of was already at its peak! )) Yet, our goal was not to force people to do something, but to help them achieve the goal. And in this case, trust is the best support.
Despite the fact that the sleep discipline marathon was held remotely and the participants were from different cities and even countries, we managed to achieve everything we wanted — to overcome fear and embark upon a new jorney to a full life.
Creation of the Book Club
Every large company has its own corporate library, which can be used by all its employees. Our book stock is so huge that it would take a long time to read all the masterpieces. It's one thing when you read on your own, and another thing when you share your impressions with like-minded people. After reading, you often want to tell others about everything that surprised or inspired you.
One of WizardsDev wizards, developer Igor Antonov, decided to create a club of interests: to invite the members of the "book community" to read one book of their choice and discuss it. Igor believes that reading books allows our imagination to involve all its reserves and inspire the creation of new masterpieces: either at work or in personal life. Moreover, books make us reveal our creative abilities, develop intelligence and grow as individuals.
Since this spring, we have read several bestsellers such as Fahrenheit 451 (R. Bradbury), Flowers for Algernon (D. Keyes), That Will Never Work: The Birth of Netflix and the Amazing Life of an Idea (M. Randolph), A Farewell to Arms (E. Hemingway), The First 20 Hours. How to Learn Anything… Fast (J. Kaufman), Alone in the Ocean. The Story of Escape (S. Kurilov).