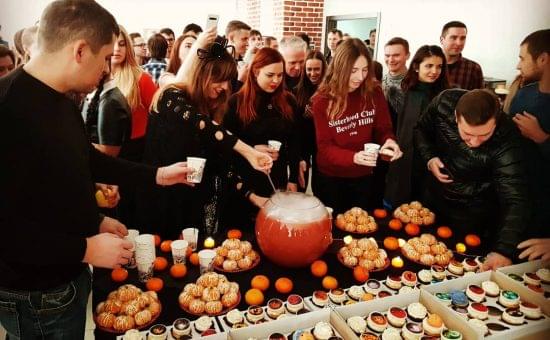 The atmosphere was rather mystical at WizardsDev on October 31. Supernatural powers took over our office in Dnepr, and the employees turned into werewolves, witches, and devils. No, no, don't get the wrong idea — it's just that on the last day of October, all of progressive mankind celebrates the sweet holiday of Halloween. With fire, pumpkins, and bats.
We had all the important stuff: the evil spirit was everywhere; bats and ghosts were circling under the ceiling, and an ominous pumpkin was lurking in the blackest corner. A huge cobweb walled up the entrance...
The diabolical ball began! The tables were filled with "deadly" delicious treats: mystical sweets and enchanted fruits. A suspiciously red cocktail was slowly boiling in the glass cauldron.
The creepy guests were having all the fun! Zombies and monsters took ominous selfies, and witches held a contest for the fastest broom. In addition, we held a costume contest, which was won by demon poet Vlad Shevchenko (aka QA tester from the Widgets department, first from the left in the picture). Here is his speech from the throne: "Days like Halloween bring even more team spirit, positivity, and a great atmosphere to the team! Personally, my emotions were quite stilted because of my costume, but the emotions of my colleagues were more than vivid, mostly fear and laughter. I think it turned out great!"
The winners were chosen based on the number of likes on Instagram. According to the terms of the contest, participants had to take a photo in costume or makeup and post the photo with the hashtag #mysticwizardsdev. During the day, until 5 p.m., the guys were getting likes under their costume photos, and at 5 p.m., we identified the three winners. All other contestants received sweet prizes.
Note that the winner actually came to the contest... without a costume, but — inspired by the atmosphere — arranged it during his lunch break.
As the sun rose, the sorcery dissipated, but the photos remained. Check out our spooky photo gallery!
Note. Halloween is a modern international holiday that dates back to the pagan traditions of the ancient Celts of Ireland and Scotland. It is celebrated every year on October 31, the eve of All Saints' Day. Halloween is traditionally celebrated in Western Europe and America, although it is not a public holiday. Since the end of the twentieth century, in the process of globalization, the fashion for Halloween paraphernalia also emerged in most Eastern European countries and the CIS. Halloween is celebrated informally in some other countries with close cultural ties to the United States or Britain, such as Japan, South Korea, Singapore, Australia, and New Zealand.