Three years of WizardsDev: photo report from the party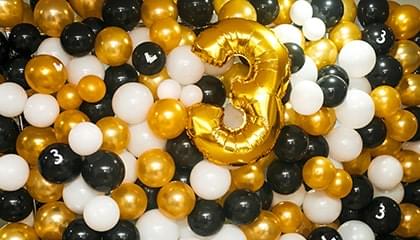 On March 15, we celebrated WizardsDev birthday. The company, which originated in Dnepr and then made its way to Kyiv, has turned three years old.
Over the past three years, frontend and backend developers, testers, and project managers have arrived at the office on Simferopolskaya. Some of them we found on our own. Others graduated from DevEducation IT school and joined our close-knit team.
We see happy faces like the ones in the photo every day — not only on holidays but also on weekdays.
Keeping with the company's best traditions, colleagues themselves decided what they would do on WizardsDev's birthday in 2019. Everyone — even those who prefer business to celebrations — solved puzzles, danced at the disco, ate at the buffet, and collected prizes.
To smart professionals, smart contests. The intellectual quiz was liked by both ladies and gentlemen. Focused faces, excitement, and competitive spirit. Our employees are a living example of how collective intelligence can move mountains. We tried and disguised the contest as a scientific conference — with a big screen, presentation, round table, winners and losers.
And after the intellectual mountains, the colleagues moved on to an even more fascinating business — the choice of gifts and their close inspection.
A quiz is all fun, but mental work requires a lot of calories. So right after the quiz, the staff got busy with the buffet. Twelve bottles of champagne, five kilos of ice cream, and dozens of canapé sandwiches were consumed. We didn't get to count the rest — all of it was gone in seconds.
Part of the office with the best lights was turned into a photo area. The girls stocked up on profile selfies for months to come. All the team took photos by the balloon stand, and those ended up on Instagram.
The final part of the program was a disco. The ladies asked the gentlemen, and the gentlemen invited the ladies. That's how the celebration ended — WizardsDev is now three years old.
But the holiday excitement isn't over. We still have the May holidays ahead!